Post by Kerrie
I am a book reviewer for the BlogHer book club. I recently red the book, Getting To Happy by Terry McMillan.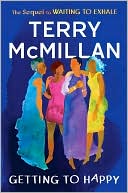 The book,
Getting to Happy
, the sequel to Waiting to Exhale, by
Terry McMillan
is a story of true friendship, family, love, forgiveness and redemption. The book chronicles the lives of four women, all around the age of 50, who have all reached a critical juncture in their lives. We share in their journeys as they experience hardships and challenges, but their friendship remains strong, providing the strength they need to persevere.